Evening Meets
We climb outdoors in the evening throughout the summer months on Thursday and Tuesday evenings.
Thursday is the main club night for trad/route climbing and Tuesday is the main bouldering night. The crags we visit will hopefully provide something for everyone. Most of the Tuesday and Thursday summer evening crags have an alternative trad or bouldering venue nearby - see the list for details/suggestions.
Next Trad Meet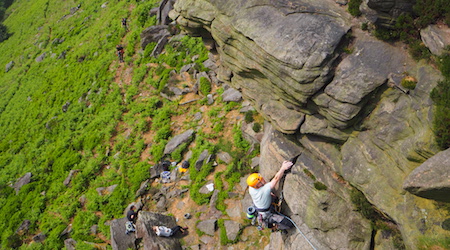 Millstone - 25 July 2019
PDNP Pay and Display Car Park so bring bank card (no coins accepted) to pay for parking if arriving before 6pm.
Next Bouldering Meet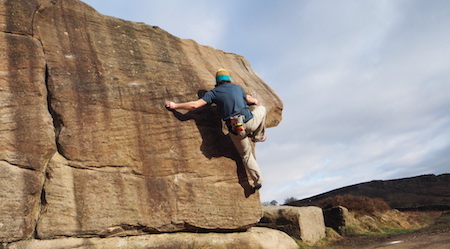 Froggatt Edge - 23 July 2019
Additional parking available in National Trust carpark (on right hand side as approach from The Grouse).
Wet weather alternatives
Tuesday - Climbing Works
Thursday

April, June, August - Foundry
May, July, September - Awesome Walls
Full Evening Meets List
| Date | Day | Main Venue (Thurs: Trad, Tue: Bould.) | Alternative (Thurs: Bould., Tue: Trad.) | Pub | Notes | Crag Info on UKC |
| --- | --- | --- | --- | --- | --- | --- |
| 23 July 2019 | Bouldering | Froggatt Edge | Froggatt Edge | The Grouse | Additional parking available in National Trust carpark (on right hand side as approach from The Grouse). | Info |
| 25 July 2019 | Trad | Millstone | Millstone (Over Owler Tor) | Millstone | PDNP Pay and Display Car Park so bring bank card (no coins accepted) to pay for parking if arriving before 6pm. | Info |
| 30 July 2019 | Bouldering | Burbage South Valley | Burbage South | Fox House | | Info |
| 1 August 2019 | Trad | Stoney Middleton | Stoney Middleton | The Moon | Park on main road in layby at the end of Stoney village. | Info |
| 6 August 2019 | Bouldering | Stanage Plantation | Stanage Plantation | Little John Hathersage | | Info |
| 8 August 2019 | Trad | Curbar (The Cioch to The Brain Buttress) | Curbar Boulders | Derewentwater Arms, Calver | Curbar Gap is now a NT/RSPB Pay and Display Car Park so bring change if not a member. | Info |
| 13 August 2019 | Bouldering | Houndkirk Tor | Burbage South Quarries | Norfolk Arms | Park at Fox House | Info |
| 15 August 2019 | Trad | Wharncliffe | Wharncliffe | Wortley Arms | Wharncliffe - Rockfax guide has good directions. The approach is through an urban wood, and it's easy to get lost. If you haven't been before, you may wish to contact someone first to walk in with. | Info |
| 20 August 2019 | Bouldering | Higgar Tor | Higgar Tor | Norfolk Arms | | Info |
| 22 August 2019 | Trad | Stange Popular (Dover Wall) | Stanage Far Right | Little John, Hathersage | | Info |
| 27 August 2019 | Bouldering | Curbar Quarries | Curbar (right hand) | Derewentwater Arms, Calver | Curbar Gap is now a NT/RSPB Pay and Display Car Park so bring change if not a member | Info |
| 29 August 2019 | Trad | Horseshoe Quarry / Stoney Middleton | Stoney Middleton | The Moon | For Horseshoe park in entrance to quarry. For Stoney Park on main road in layby at the end of the village. | Info |
| 3 September 2019 | Bouldering | Froggatt Boulders | Froggatt | The Grouse | Additional parking available in National Trust carpark (on right hand side as approach from The Grouse). | Info |
| 5 September 2019 | Trad | Burbage South | Burbage South | Fox House | Park at Fox House | Info |
| 10 September 2019 | Bouldering | Burbage North | Burbage North | Broadfield | | Info |
| 12 September 2019 | Trad | Lawrencefield | Mother Cap / Secret Garden | Millstone | PDNP Pay and Display Car Park so bring bank card (no coins accepted) to pay for parking if arriving before 6pm. | Info |
| 17 September 2019 | Bouldering | Ox stones | Burbage North | Broadfield | | Info |
| 19 September 2019 | Trad | Burbage North | Burbage North | Norfolk Arms | | Info |
| 24 September 2019 | Bouldering | Sheffield Boulders | Sheffield boulders | Broadfield | | Info |
| 26 September 2019 | Trad | Stanage Popular | Stange Far Right | Sangams curry - Hathersage | | Info |